Xen Orchestra 5.31
A new version of Xen Orchesta is available. If you are using XCP-ng hypervisor, you can now use zstd compression algorithm and benefits from a lot faster backup. If you are not using XCP-ng, it's time to download it!
FOSDEM 2019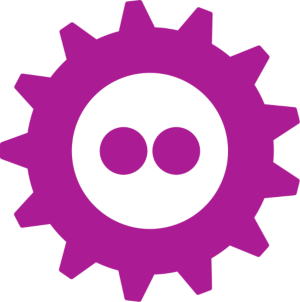 Again this year, some of us are going to one of the greatest OSS convention in Europe, FOSDEM in Brussels. This year, it takes place on the 2 & 3 of February.
If you are going too, this is the opportunity to learn more about the XCP-ng story during Olivier Lambert's (CEO) talk: XCP-ng - From Kickstarter to Datacenter. You may even have the opportunities to get some of our shiny stickers.
zstd compression support for backup
⚠ Warning: This feature is only available using the XCP-ng hypervisor. Download it here.
The Zstd compression algorithm is now supported in XCP-ng. Consequently, we added the option to choose zstd compression in the Xen Orchestra backup menu for full backup and Disaster recovery:
Zstd compression in our real case test scenarios is around 6 times faster than the XenServer default compression (GZIP) and delivers between 5% and 10% smaller backup files. zstd compression is not only saving space on your remote, it makes your backup even faster than without compression: depending on your disk content and host CPU, this can be up to 4 times faster!
A picture is better than a thousand words, so lets take a look on the performance of backups with zstd in Xen Orchestra, here with a cheap Xeon E3-1225 v5 on a small VM: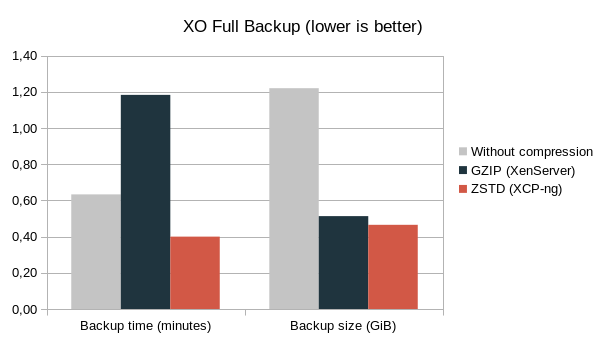 Now with a better CPU (EPYC 7401P) and a bigger VM, it's even more impressive: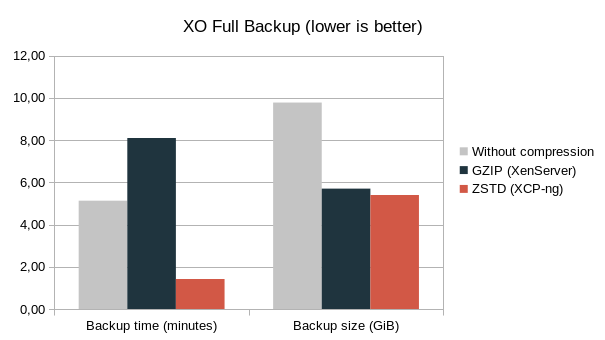 This feature is (for now) only available in the XCP-ng hypervisor. This might be the right moment to try our open source alternative to Citrix if you haven't yet adopted it!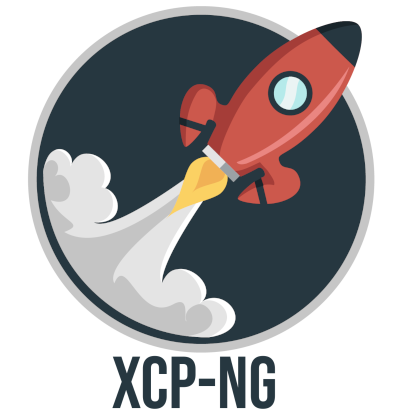 And for companies requiring support for their production environment, XCP-ng provides pro support plans.
More information displayed
Backup remote space and usage
The remote space used and left is now directly displayed in the backup view of Xen Orchestra. This is particularly useful if you want to monitor the space consumed by your backup and choose a remote with enough space left when creating a new backup job.
Display free RAM on the host selector
When selecting a host for migrating a VM, you will now see the RAM available on that host.
Snapshot improvements
Grouped VM snapshots
You can now snapshot a group of VMs. If you deploy a bunch of VMs that you want to snapshot at different moment (eg. after you have done the basic configuration) - you can now snapshot all the VMs at the same time instead of one by one.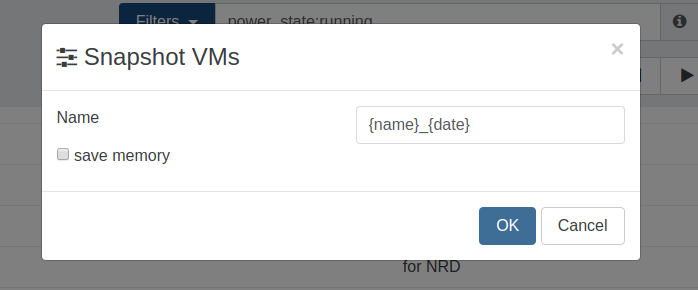 snapshot VM memory
You have now the ability to snapshot a VM's memory.
Enable/Disable multipathing
You now have the option in the SR view to enable or disable iscsi multipath.
ACL's management from VM view
You can now set ACLs for a VM directly in the VM view. This will also allow you if the VM is already linked to existing ACLs.
SMB performances improved
We have improved the overall performances when using a SMB remote storage.
PIF speed display
The information about the PIF speed is now display. It will allow you to check if the speed negociation is the right one.

Notification system
Notifications improved for backup health
You are now notified when there are orphan snapshots to delete in your infrastructure. This notification is visible directly in the backup view.
Notification in app
You will now receive notifications directly in your Xen Orchestra appliance for important information (eg. your license is about to expire).
One Time Password Authentication
You can now activate for each user the OTP authentication. This is an easy and secure way to allow your user to log in Xen Orchestra