XenServer licencing - How it works
Citrix XenServer licencing system may sometimes be unclear. It's time to get some clues about how it works and you can get your Citrix XenServer license the right way.

⚠️
Don't miss it
: since 2018, XCP-ng works as a 100% free and compatible drop-in replacement for Citrix Hypervisor. Go
read more on XCP-ng website!
90%+ of our Xen Orchestra users already switched to XCP-ng
instead of XenServer/Citrix Hypervisor.
EDIT October 2018: As we are now developing the XCP-ng hypervisor as an alternative to Citrix XenServer, we are no longer XenServer provider. We strongly encourage your to take a look on our open source solution!
As you know, we are now Citrix Solution Advisor, which is the title of nobility allowing us to sell Citrix XenServer licenses among others Citrix products.
Since the XenServer 7.3 release, some features have been removed from the free edition but also host number limitation in a pool (3 hosts max). Getting a commercial license from xenserver is something you can think of.
The pricing policy of XenServer is, somewhat, unclear. And that's why I wanted to clarify the situation in this article.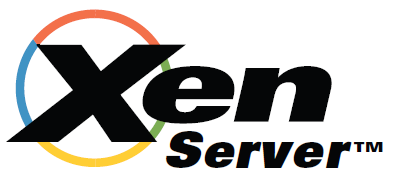 Why get a license?
A XenServer license will brings many benefits:
You will get access to additional features only available for standard and enterprise edition (this is especially true for XenServer 7.3)

You will access a commercially certified product, rigorously tested for a production environment

You will benefits from the Citrix maintenance, with world class support 24x7

You will have the opportunity to get every updates & releases, including security patches and version upgrade.
To sum up, getting a commercial edition will allow you to unlock the features you need and to keep your infrastructure up to date for EVERY XenServer edition. It means, that if you apply your license for XenServer 7.3 you can still upgrade to XenServer 7.4 without investing in new license!
Note : The CSS (Customer Success Service), which include the support and the update have an annual cost and is MANDATORY to keep getting access to updates after the first year.
Which edition should I choose?
For homelab, free edition deliver all the features you need for a basic utilisation. Free edition comes with some limitation, you can't have more than 3 hosts in a pool and, obviously, you won't have support from the Citrix team.
If you want all features without paying a license, please see below the XCP-ng alternative.
For production environment and mid-market companies, the standard edition will allow you to get rid of the pool limitation, unlock storage XenMotion, live migration and GPU pass-through among other features. This edition is, more or less, the previous XenServer free edition (before 7.3) with support.
For GPU virtualization and large scale datacenter, Enterprise edition make sense since you will unlock specific features related to GPU, Changed Block Tracking and PVS-accelerator.
Before taking any decision, be sure to take a look on the complete Citrix XenServer features matrix for XenServer 7.3
Pricing
Here it is! You need a quote? Contact us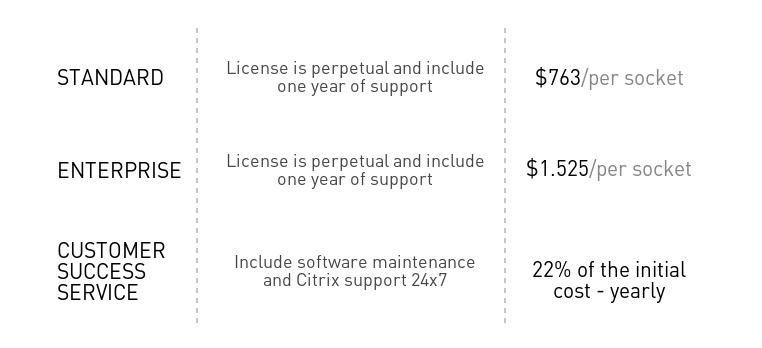 Alternative?
If you don't want to have Citrix support, but enjoy all features, please check the new XCP-ng project. It will be 100% community backed!
In other words, XCP-ng is a community project on which we are working in order to deliver an alternative to XenServer commercial edition. If you want to learn more about it:
Until a first official release available, you can stay on 7.2 free edition, which get the Meltdown/Spectre patches available, and no pool size restriction nor other features removed.